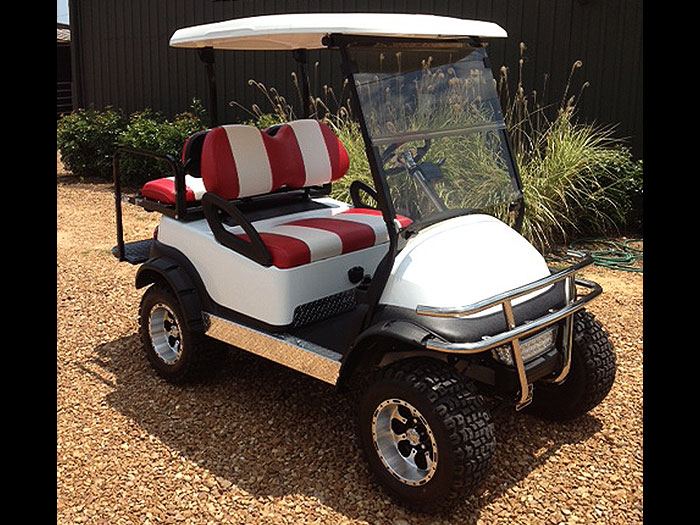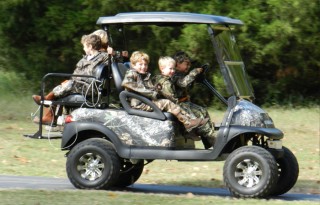 Golf cart tires are very important to your cart. Golf Carts have came a long way since they were first introduced in the 50's and continue to change today. Golf cart tire and wheel combinations can make a huge difference with your golf cart, both aesthetically and mechanically. Your tires will affect how your cart rides and how well it maneuvers on different terrains. Nice rims and larger tires will give your ride a more appealing look and may increase the value of it as well. Since golf carts have many different uses, i.e. hunting, golfing, transportation, etc., you will need to find the tire that best fits your lifestyle. Just like any vehicle, the proper tire can make all the difference.
There are many things to consider when purchasing tires for your golf cart. There are different variations of golf cart tires for different applications but the main categories are Turf or Street Tires, Knobby or off-road tires, and All-Terrain tires. Wheels are available in 8″, 10″, 12″, and 14″ sizes. Tires are also available in a variety of different sizes: 18″, 20″, 22″, and 23″. Most Golf Carts come with stock tires that are 18×8.5-8, which means that the height of the tire is 18 inches tall and 8.5 inches wide with a space to mount an 8 inch wheel. This size tire is going be the smallest tire offered on golf carts also. Please note that if you choose a tire greater than 20 inches, you must have a lift kit installed.
Golf Cart Uses
The Traditional golf cart user will drive on the golf course, paved cart paths, and also do some street driving. Golf Courses usually have strict rules for what type of tire you have on your cart. The most suitable tires for golf course applications are DOT approved tires with street tread patterns. These golf cart tires come in various sizes to fit 8 inch, 10 inch, 12 inch, and 14 inch golf cart wheels. The tread design for turf tires is meant to funnel water out allowing for more grip on the road and when on grass, you won't slip around and or tear up the grass. If you are looking for tires to be used on the golf course make sure you stick with any Turf or Street tire.
If you are using your golf cart on off road terrain, possibly somewhere in the country or on someone's ranch land, you will want to look at the Knobby or Off-Road terrain tires. If you are the neighborhood golf cart user, you have your decision to make. You can get a turf, or street, tire and risk possibly getting stuck if you have to go through mud or want to take it to the beach but you will have a nice, smooth ride when you're on the street. If you go for the knobby tire, you will experience a loud and possibly rough ride while on the street but obviously be able to go through mud or sand with more ease. Most neighborhood drivers will go with the all terrain tire to get a compromise for both worlds.
Additional Golf Cart Accessories Available:
Heavy Duty Motor and Controller Packages
Heavy Duty Leaf Springs
Custom Paint
2-Tone Seats
Brush Guards
Clays Basket
Seat Belts
Mp3 Player
Rear Cargo Box
Dash-Wood Grain or Carbon Fiber
Fender Flares
Floor Mats
Roof Storage Racks
Safety Grab Bars
Custom Steering Wheels
Extended Tops
Rear Hitches
Storage Covers
Replacement Plastic Parts