GOLF CARTS – NOT JUST FOR GOLF
So, how do you decide which brand is right for you? Find the model that fits your lifestyle and delivers the maximum performance, style and longevity that you are looking for.
There are many different uses. Running around the neighborhood, hauling, yard work, hunting, just to name a few. You should have a good general idea of how you will be using the car. That is the most important part of the selection process.
One of the most important things to look for is the amperage of the controller which produces the torque/speed of the car.  The more amps, the more torque… but this also means shorter battery life.
Let's get started with the Ez Go.
EZ GO – YOUR RUGGED TERRAIN VEHICLE
The first Ez Go was released in 1954. These golf carts are some of the most rugged vehicles on the market today. This is just one of many benefits when purchasing an EZ GO.
EZ GO's are made to look good, have a steel frame, and are very durable. Parts are fairly cheap and reasonable and they are plentiful. The EZ GO rides good. EZ GO's with 36v 600 amp controllers, big motors and Trojan T-105+ batteries are great for pulling heavy loads and will run around 35 mph. EZ GO has plenty of upgrades and models available. Count the number of EZ GO carts on the golf course. Many players use these. Durability is one reason. EZ GO had durability and toughness in mind when they went into business. They are built with quality materials that last and are easy to maintain.
They also come in electric or gas powered versions. Electric is better for the environment while gas offers more speed and power. All EZ GO's can be customized to your specifications. Colors and accessories vary. EZ GO carts can also be used to travel short distances.
EZ GO PROS AND CONS – SUMMARY
A non DCS-PDS (series) is the best set-up for upgrades.
EZ GO's are made to look good, have a steel frame, and are very durable.
Parts are fairly cheap and plentiful.
Rides good.
Not as good with hilly terrain or heavy loads unless controller and cables are updated.
Early 90's EZ GO's were using motors made by GE that did not have very good speed or torque.
CLUB CAR – QUALITY MATTERS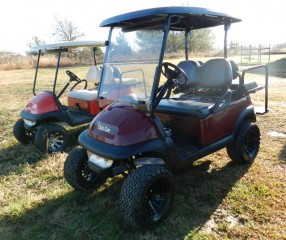 The Club Car has been a leader in quality, innovation and customer satisfaction. 98% of Club Cars are sold and 98% are electric.
These carts are designed with the most innovative and useful features included as standard equipment and feature an aluminum style frame. These carts feature great power for uphill driving and enhancements to the speed controls. Good selection is also a plus with the Club Car. Not only are two-seater models offered but 4-seater passenger models as well.
Club Car golf carts are available in several different colors. Basic models are also nice looking and durable. These carts also have a huge listing of accessories to choose from, such as custom dashboards, power point installation kits, hard tops, bag covers, windshields and rear view mirror kits. Club Car carts are a very popular brand. Club Car offers golf carts for all needs including Golf Hospitality, Turf Cars, and Transport. Both electric and gas models are offered. There is also a popular Villager series that can provide for up to eight passengers.
CLUB CAR PROS AND CONS – SUMMARY
Club Cars are great for hunting
Hilly terrain
Great power
Good steering
Good strong stock motors
Will not rust: aluminum frame
They are lightweight with great durability
Smooth suspension
Great for getting around the neighborhood
Last a long time.
Parts are rather costly
Some problems with suspension and clutch
They eat generators.
Again, the most important part of your selection process with a golf cart is knowing how you will be using it. This will go a long way in helping you make the right choice suitable for you.
Additional Golf Cart Accessories Available:
Heavy Duty Motor and Controller Packages
Heavy Duty Leaf Springs
Custom Paint
2-Tone Seats
Brush Guards
Clays Basket
Seat Belts
Mp3 Player
Rear Cargo Box
Dash-Wood Grain or Carbon Fiber
Fender Flares
Floor Mats
Roof Storage Racks
Safety Grab Bars
Custom Steering Wheels
Extended Tops
Rear Hitches
Storage Covers
Replacement Plastic Parts