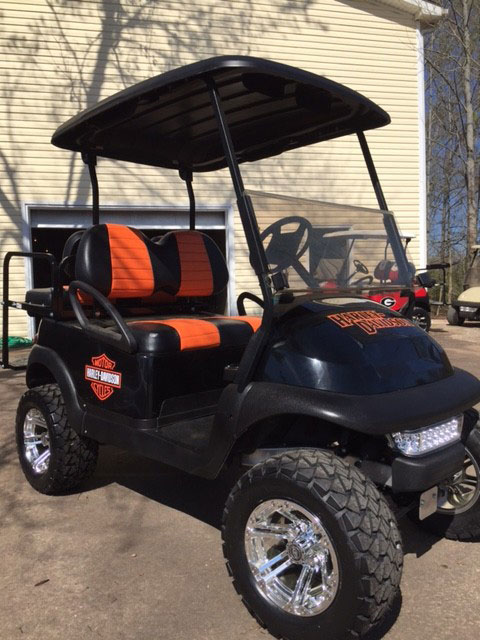 When looking for a golf cart you will find that there are three major players that have been around a long time: Yamaha, Club Car, and E-Z-Go.  Interestingly enough all three of these manufactures are located around Augusta, GA.  This article will give you some comparisons of these three major players and the benefits of each.  When deciding on the best option for you, it is recommended that you take all the different types into consideration and determine what best fits your wish list.
CLUB CAR Golf Cart
Club Car repeatedly leads the golf cart industry with their detail and attention on innovation and detail.  Club Car got it's start in Houston, TX  in 1958 but is now  is a division of the 100 year old Ingersoll Rand a global manufacture that engineers products and solutions to transport perishable items, and improves efficiency and productivity of industries.
With over 40 base models, Club Car is recognized as industry leaders for their design, value and overall state-of-the-art engineering.
Recently Club Car has taken on the task of separating themselves from the main competition of Yamaha and E-Z- Go golf carts.  They have taken their years of experience in developing efficient golf carts to enhancing the comfort features that include a new canopy, modified in and out accesses, to higher arm rests to provide more support.  All this integrated comfort is putting them at the top.
Just as important as the quality and ingenuity of their golf carts, Club Car's relationship with its customers is equally important.  This relationship has been the driving force behind the success of the Club Car Company for over 35 years.
E-Z-GO Golf Car
E-Z-Go Textron, since 1954, has been the number one golf cart manufacturer in the world, leading the industry and continually changing the experience within the golf community.  The company has the largest agreement with ClubCorp, the world's largest private golf club and resort operator, and with American Golf, the world's largest operator of golfing facilities.
While they are most known for the golf carts on the course of play, the company has been stepping up their game to attract customers to their line of utility carts that can be used for other purposes such as industrial, commercial and off road turf.
E-Z-GO recently introduced its Precision Drive System golf cart, which allows golf course management to individualize their golf carts to the unique terrain of its course to ensure optimal performance.  Three different factory pre-set performance options are all-terrain, steep hill and mild hill.
E-Z-GO takes innovation and product quality seriously and has upped the ante with its competitors and have time and time again proven it is an industry leader.
YAMAHA ATV
Yamaha ranks highest in the golf cart industry's reliability and performance.  Yamaha opened a manufacturing plant in Newnan, GA in 1998.
Yamaha features bot gas powered and battery powered golf carts.  The battery operated cars draws less energy from its batteries then a typical 36-volt car, yet delivers a gentle ride on those challenging rugged terrain treks.
Customers of Yamaha are coming back time and time again as the company's reputation for producing top quality golf carts has been proven.  Yamaha's engines are top notch and they stand behind their product.
Additional Golf Cart Accessories Available:
Heavy Duty Motor and Controller Packages
Heavy Duty Leaf Springs
Custom Paint
2-Tone Seats
Brush Guards
Clays Basket
Seat Belts
Mp3 Player
Rear Cargo Box
Dash-Wood Grain or Carbon Fiber
Fender Flares
Floor Mats
Roof Storage Racks
Safety Grab Bars
Custom Steering Wheels
Extended Tops
Rear Hitches
Storage Covers
Replacement Plastic Parts