Custom Golf Carts – Alpharetta, Georgia
Customization of any product has become a highly sought after and preferred product of many consumers. From clothing to golf clubs, men are just as likely to customize products as women. So what about your golf cart? You can design that boring basic white golf cart into the hot rod you've always wanted!
With the golf cart industry growing exponentially for the past decade, your options for customization are limitless. From 15' inch rims, high-performance motors, paint jobs, lift kits, tailgate hitch, to a Polk audio system with a USB port, you can travel in comfort and style no matter the destination or venue!
Golf Cart Rims & Accessories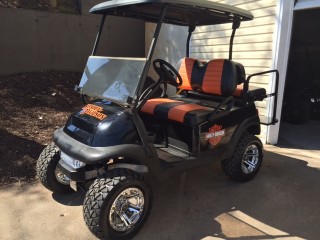 Anything you dream is within reach with Southeastern Golf Carts, located just outside of Atlanta, GA. Take it to the golf course or to tailgate at the game, let's get started creating your custom golf cart!
The most popular custom accessory to any golf cart are the wheels. Seriously, where else would you start? Designing a custom cart means you can tailor each aspect of your golf cart to your specific needs. Custom golf cart tires come in a variety of sizes, styles, and treads depending on the terrain you will be traveling on. The reality is you want a smooth ride and better traction then those basic out of the box wheels can give you. Getting some custom tires and wheels along with a lift kit will make all the difference!
Style your cart with custom cart seats. The possibilities are endless! At Southeastern Golf Carts we offer our clients with custom designs from the college or university to embroidered logos and stickers to make it uniquely yours! A bonus…the cost of doing custom golf cart seats doesn't have to break the bank!
You will also want to consider upgrading the motor. The original motors in golf carts are designed for use on the golf course. But with the popularity of golf carts being used for economical transportation for sporting venues, city and church events as well as for personal recreation, more power is important to have to keep pace with other vehicles on the road. Depending on the type of power your golf cart will run on, you may need heavier batter cables, a different speed chip. or to upgrade the to a more powerful motor all together.
With so many options available, a call to one of our experts can help you determine the best upgrades and customization options that appeal to your needs.
As you can see this article just barely touched some of the more popular add-ons when doing custom golf cart builds, you'll want to check online for all the hundreds of other options that are available to see which ones appeal to you the most and satisfies your needs.