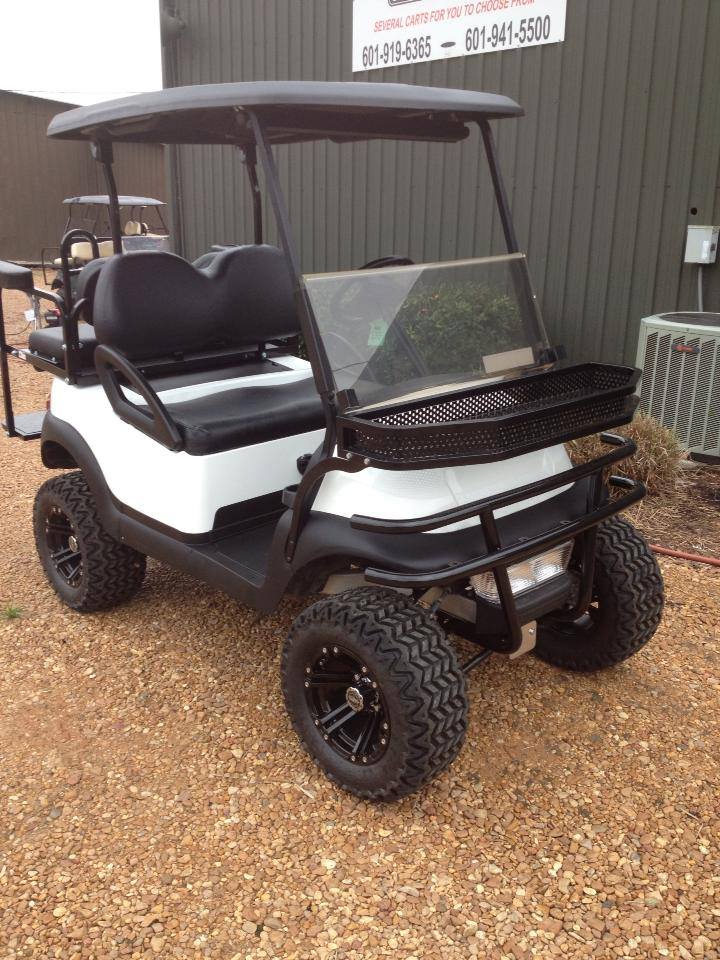 How High Can you Go?
A lift kit is perfect for boosting your golf cart further off the ground, allowing more clearance for driving over rocks, brush, and water. (It also helps boost your ego off the ground, but we won't go there.) Plus, many lift kits make your golf cart more stable, due to a wider stance, ensuring a safer ride.
Lift Kit 101
The right tires and wheels can make all the difference – on both your golf cart's appearance and on the terrain you're navigating. Low-profile tires on large wheels give your cart a truly sleek look. And if you're interested in real off-roading, you'll want larger tires with tougher treads than those used on smooth surfaces like golf course trails or asphalt streets.  But… once you have these, you won't be able to use the cart on the golf-course anymore!  Below, you'll find a wide selection of tire & wheel assemblies – choose the one best-suited for your cart!
Questions to Ask
Before you get all excited about lifting your golf cart, there are some questions you need to ask before you purchase.  How much is this going to cost me? Of course the first draw is the cost, but is it worth it? The quality of the products you choose will be a big part in the performance you can expect to play for a lift. What kind of materials does the manufacturer use? Do you want a lifted suspension under you and your family made of cheaper steel? If a part was to break can you get the one part you need without buying another whole lift kit? How long is the warranty and is there a guarantee?
There are many different brands of lift kits available; Club Car, EZGO, and Yamaha are the most popular. In order to make sure you are purchasing the correct one that fits your needs, make sure you do your research. EZGO and Club Car are the most popular, and Yamaha is usually the more expensive, but same claim they last longer. (American made vs. Chinese is also an issue to some people.) Remember, you want your golf cart high, not your debt!  Typically, Club Car lift kits can run as low as $170 and as high as $450, just to give you an example, here are some lift kits priced out on eBay.
For more information, contact us today!
Additional Golf Cart Accessories Available:
Heavy Duty Motor and Controller Packages
Heavy Duty Leaf Springs
Custom Paint
2-Tone Seats
Brush Guards
Clays Basket
Seat Belts
Mp3 Player
Rear Cargo Box
Dash-Wood Grain or Carbon Fiber
Fender Flares
Floor Mats
Roof Storage Racks
Safety Grab Bars
Custom Steering Wheels
Extended Tops
Rear Hitches
Storage Covers
Replacement Plastic Parts