Announcing!
New Icon Golf Carts for Sale in Jackson, MS

SouthEastern Golf Carts is thrilled to introduce the latest addition to our inventory of new golf carts to the great state of Mississippi: Icon Electric! Touted as the top electric golf cart on the market today, we know you'll love what this new ride brings to the world of golf carts. Our golf cart experts have searched high and low to bring you the very best electric golf carts and we know we've found the golden ticket. Icon has built their stellar reputation on golf carts that are anything but basic. Get on the road with power, performance, safety, and of course, style. Most importantly, you'll be driving the golf cart with top quality products all the way around. Icon golf cart reviews are in and owners are raving about their Icons!
Why Choose Icon Golf Carts?
Icon electric golf carts were designed with YOU in mind. Serving a wide variety of purposes, Icon provides a specially formulated golf cart for each and every potential use. Golfing, recreation, resort travel, off-roading, patrolling, farming, hunting, commercial uses…Icon has a model to suit the particular needs of each task and environment. This means that from top to tires, every feature and aspect benefits the driver.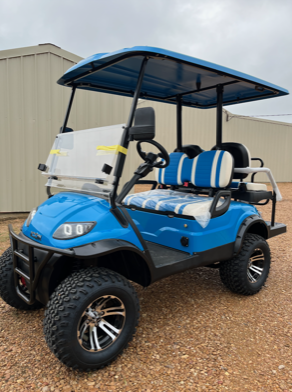 Icon Golf Cart Models
The ICON L series (i20L, i40L, and i60L) are designed for off-roading situations like hunting, farming, camping, etc. providing a smoother ride with rugged tires, lift kits, roll cage based frame, and enhanced suspension. The Icon signature series (ICON i20, i40, i60, and i80) is designed with comfort in mind, as they are best suited for recreational and commercial uses. These Icon golf cart models are equipped with grab bars, cup holders, windshields, glove compartments, painted rooftops, horns, digital gauges, blending form, function, and ultimate comfort.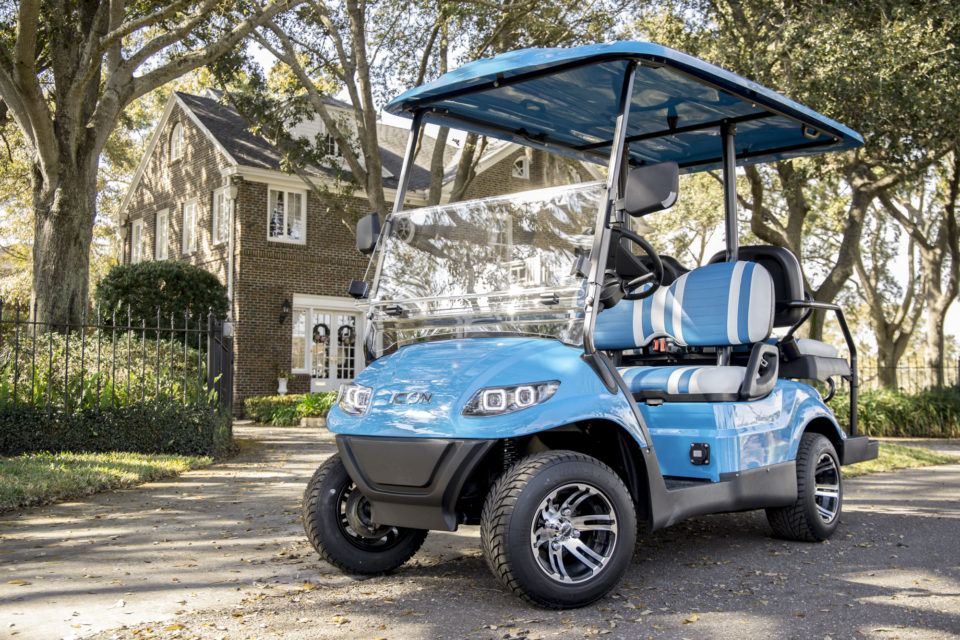 The SouthEastern Golf Cart team specifically selected Icon golf cart products because they adhere to our mission, which is to provide high quality golf carts that serve your needs, yet always with the ability to make your golf cart completely customizable. Icon golf cart models vary slightly depending on their unique purpose, but most models include:
2 year manufacturer's warranty
48V, 4KW Toyota AC motor
Toyota 350 Amp controller
10"- 12" aluminum wheels
Trojan Lead-acid, NexGen Advanced Lithium, or NexGen AGM batteries
Onboard Delta Q charger
Digital gauges and speedometer
PP (Polypropylene) body kit
A-Frame, powder-coated steel chassis
4W coil over suspension system
4W hydraulic disc brakes
Anti-corrosive galvanized steel top supports
Brake, head, tail, and turn signals
DOT windshield and seat belts
The best part of all is you won't have to constantly worry if you'll reach your destination. Icon's carts travel up to 110 miles on a single charge!
Icon Golf Carts Accessories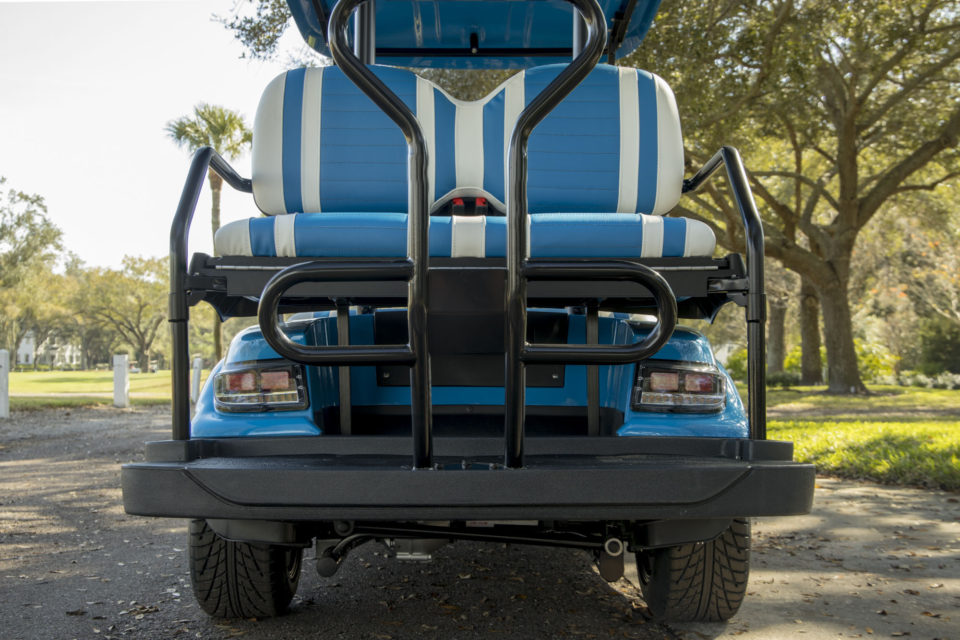 You can get the "anything but basic" Icon golf cart models and have absolutely everything you need for a powerful, smooth, and comfortable ride. Yet Icon didn't stop there! The next part is all up to you. Your cart is completely customizable and accessories include every feature you can dream up, all built with Icon's unrivaled precision and highest quality. Brush guards, windshield tinting, tops, bluetooth speakers, lift kits and suspension, light kits, bumpers, cargo and roof racks, and so much more! You can have any of it added to your already high-end Icon electric golf cart.
Have we convinced you yet? Call or click to speak to us at SouthEastern Golf Carts. We're standing by to get you in the ride of your dreams: an Icon!