Roof Storage Racks for Golf Carts
At Southeastern Golf, we're in the business of making sure your golf buggy has every convenience and luxury accessory available! Enter golf cart roof racks. A golf cart roof storage rack is a clever way to easily expand the functionality of your vehicle. This may sound like it's just for hauling luggage but there are endless ways that storage for golf carts can be used! The sky is really the limit in how you can inventively use storage racks for golf carts.
Don't worry about taking up already limited passenger space in your cart! Imagine transporting chairs, coolers, and umbrellas to the beach on a sunny day without having to find parking or carry them with you by hand! Or loading up supplies on your hunting golf cart for your next off-roading adventure. Not to mention when it's time to check out at an RV park or resort, there is no need to drag all of those heavy suitcases around- just use our roof racks for golf carts. If you own a cart for use around your farm or ranch, all that necessary equipment will now have a handy golf cart cargo carrier! Are you beginning to visualize the many uses for golf cart roof storage racks?
Why Your Golf Cart Needs A Roof Rack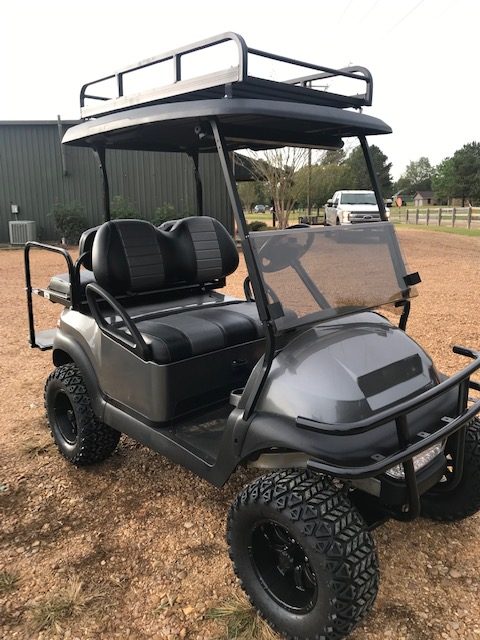 Save Space with Storage Racks for Golf Carts
Any proud golf cart owner knows that space is at a premium in our tireless buggies. Save space for your most precious cargo – your passengers – with a reliable golf cart cargo roof rack. The best golf cart roof racks are made with heavy-duty powder-coated steel, which means you can leave the heavy lifting to your roof storage rack! 
Golf Cart Roof Racks for Adventure Gear
Our custom golf cart roof racks allow you to have all the gear and supplies needed for your next outdoor adventure. Whether you're after camping supplies, fishing poles, hiking gear, hunting supplies, ski equipment, luggage, or groceries – roof storage racks for golf carts provide the necessary security. Golf cart roof cargo bins are designed with a secure storage area so that no matter what size, shape or type of equipment is being transported it can be safely stored away from potential damage. Have peace-of-mind knowing everything will stay onboard during your next drive without losing any comfort in seating arrangements!
Best Golf Cart Accessories – Roof Racks
Afraid that your roof rack will ruin the customized look of your golf cart that you've worked so hard to create? The best part about a golf cart roof rack system is you don't have to worry about detracting from the look and feel of your unique buggy. Southeastern Golf has a variety of golf cart cargo racks that will complement the style of your cart, adding form and function all in one.
Golf Cart Roof Racks and Carriers
Southeastern Golf stocks customized golf cart roof racks which include designs perfect for your custom-designed golf cart. We also offer leading brands: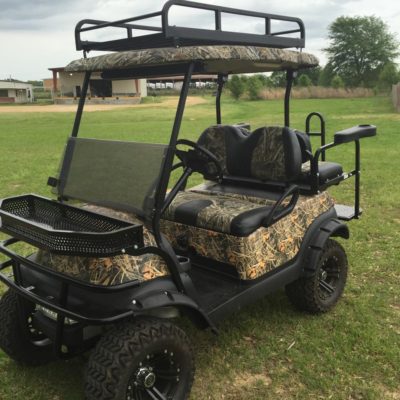 Yamaha golf cart roof rack
Yamaha golf cart roof storage
EZGO golf cart roof racks
Club Car racks for golf carts
Golf cart cargo rack
Icon golf cart roof racks
Club Car Precedent Golf Cart Roof Rack
EZGO TXT Golf Cart Roof Rack Storage System
Southeastern Golf is your one-stop-shop for all things golf cart! We offer customized designs, comprehensive service for all of the top golf cart brands, as well as every accessory you could dream of to amp-up your ride. Want to turn heads while enjoying the comfort and convenience of your golf cart upgrades? We get it. Visit our shop today and talk to the golf cart pros at Southeastern. We'll get your favorite buggy tricked out in no time!