Golf Cart Custom Paint Jobs
Don't you want to drive around the course or cruise around town in style? Just as with any vehicle you own, your golf buggy is an extension of you. Taking painstaking care of your golf cart and customizing your ride to ensure she represents you well is a blast! The most noticeable element of a customized cart is the paint! At Southeastern Golf, we offer golf cart paint jobs designed to reflect your personal aesthetic and style. Whether your cart is used on the course, around town, for hunting, transport tool, tried and true workhorse, or anything else, having a custom painted golf cart improves your cart's quality and lifespan and adds your personal touch to your prized ride.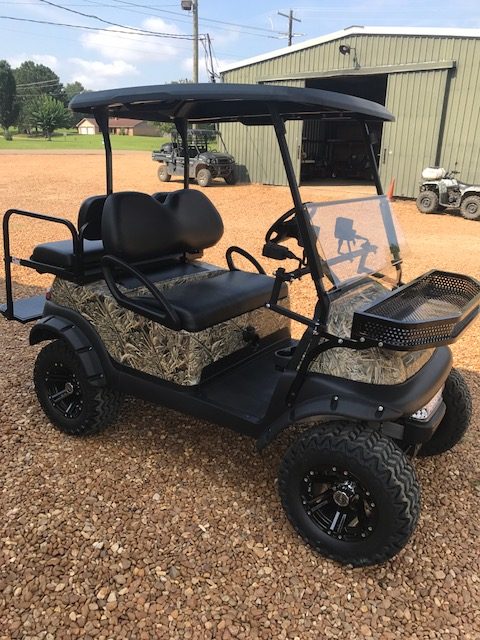 Custom Golf Cart Painting in Mississippi
You might be wondering why you should use a golf cart painting professional. Sure, painting a golf cart yourself could be a fun activity, but simply put, having a trained professional golf cart painter will result in a better product. Using a golf cart paint professional is especially important when you're looking to customize your golf buggy with all the images, logos, color schemes, and golf cart paint designs you really want. When you have a trained golf cart paint technician do the job, the result will be the polished and professional finish you deserve.
Beyond just style or personal preference, custom paint designs on golf carts can be used for company branding, advertising, promoting unity and identifiability in a commercial fleet, and so much more. So how do you find the best custom golf cart painter nearby? The main elements to look at are price, previous work examples, and experience.
Golf Cart Custom Paint Job Pictures
At SE Golf, we have a wide range of past and recent work examples available so that you can see the high level of work your cart is going to receive. (This might also give you some ideas!)
Cost of Golf Cart Custom Paint Jobs
Golf cart painting costs should match the level of expertise. If you're looking at a simple one or two type paint job, then the cost should be significantly less than a custom job with specialty golf cart design features, various color schemes, decals, and so on. The best painters will be able to do it all, priced according to the level of the specific job. 
Experienced Golf Cart Painters
The pros at SE Golf have experience with every step of the golf cart painting process and are familiar with the huge amount of prep it takes to do a fantastic job. We also know the potential pitfalls that come with painting a golf cart, as well as how to avoid them!
Best Golf Cart Paint Shop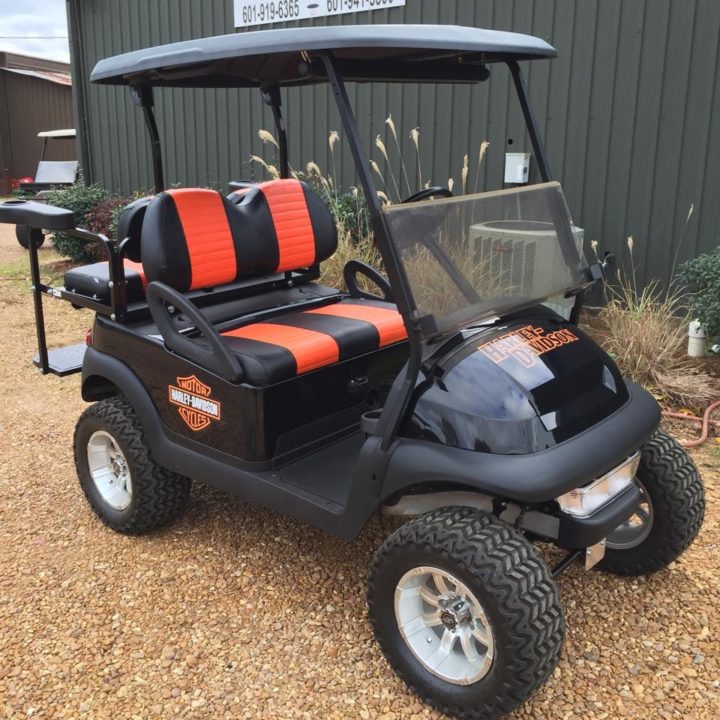 Southeastern Golf Carts has proudly provided golf cart owners in the state of Mississippi with custom carts including golf cart paint schemes such as:
Harley golf cart paint themes
College and sports team golf cart paint jobs
Camo golf cart paint design
Ladies custom golf cart paint job designs
Multi or two-tone golf cart paint
Custom painted golf cart images
Most popular golf cart color schemes
Custom paint jobs on Club Cars
EZGO custom painting
Various other golf cart colors and designs
Just drop in, explain what you want, and we'll make it happen! Not quite sure what will best fit your style? Our expert golf gear heads can help you with golf cart paint ideas.
Our complete golf cart service care, including golf cart custom paint jobs, is just a phone call away: 601-919-6365. When any golf cart need arises, just remember, SE Golf Carts is Mississippi's most reliable and best used golf cart dealer!