Fender Flares for Golf Carts
The comfort (and cleanliness!) of your golf cart ride depends on fender flares! Keep the mud and debris off you and your passengers while adding to the style appeal of your golf cart, all at once with the addition of fender flares! These are especially helpful for those golf carts used in off-roading or hunting, and for lifted or utility carts, but they are even beneficial for the golf course or around town. If you're cruising around in inclement weather fender flares are worth every penny!
How to Choose Fender Flares for Golf Carts
You'll want to be sure that your fender flares are quality for the cost so using a trusted vendor, such as SouthEastern Golf Carts, can give you peace of mind about your purchase. Give us a call or stop by and we're here to help. In the meantime, let us provide a little food for thought about fender flares for your cherished buggy.
Brand
Dependable and known brands are usually worth the money because you know exactly what you're getting. If a brand sells high-quality, durable items, then you know that your purchase will be worthwhile. Another consideration is to select the same brand as your cart. Then you'll know, without doubt, that the fit and usability will be compatible.
Price
Always consider price when purchasing items for your golf cart. Choosing quality fender flares within your budget is definitely possible. Don't go too low, as the price is usually a good indicator of quality. If you decide the perfect flares for you are a little too pricey, just wait for a sale from SE Golf to make your purchase! 
Warranty
Along with price point, a good warranty usually means the brand is confident in their product. Not only does this mean you'll most likely receive a high-quality product, but more importantly, a good warranty means it will be replaced at no/low cost to you.
Function
Double-check product descriptions for both dimensions and purpose/function. Ensure that the fender flares you're considering don't have modifications that are specific to target markets rather than your needs.
Golf Cart Fender Flares Near Me
We offer a huge selection of fender flares in Jackson, MS at our shop, or right here online! Not sure exactly which fender flares you need? SE's team of experienced golf cart technicians are standing by, ready to assist you in your selection. We can install them for you too! Give us a call, email, visit our social media pages, or just stop by. We're ready to help!
Golf cart fender flares Yamaha
Club car fender flare kit
Club car fender flares
Club car precedent fender flares
Club car onward fender flares
Club car DS fender flares
EZGO txt fender flares
Golf cart fender flares EZGO
Golf cart wheel flares
Golf cart fender skirts
Golf cart mud flares
Universal golf cart fender flares
Custom designed fender flares
Any other brand…we're sure to have it!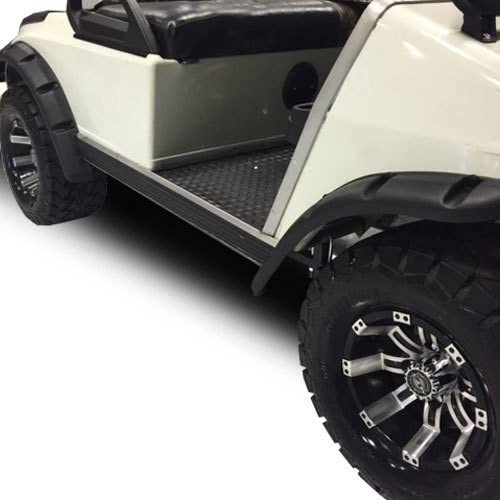 Along with fender flares designed for specific golf cart makes and models, custom-designed fender flares from SE Golf are tested and proven to protect the driver and passengers from water spray. Stop by or give SouthEastern Golf Carts a call today to discuss your fender flare needs. If we don't have the golf cart fender flares you need, we'll either track them down or custom-design them! Enjoy more fun and less mess! See ya soon!